PCR 정제용 AMPure XP
세척 및 크기 선택
당사의 독점 SPRI 상자성 비드 기반 화학을 사용하여 NGS 워크플로에서 오염물질(dNTP, 염, 프리머, 프리머 이량체)을 제거할 수 있습니다.
다양한 NGS 라이브러리 준비 화학기법에 사용
수동 및 자동 처리와 호환
> 100bp의 높은 앰플리콘 회수
예측 가능하고 일관된 크기 선택
분석증명서(COA)가 필요하신가요? 페이지 상단의 검색 바를 사용하여 로트 번호를 검색하십시오.
AMPure XP 워크플로우

제품 사양
| | |
| --- | --- |
| Application Uses | Purification & Clean-up, PCR Purification, DNA Purification, Sequencing, NGS Clean-up, PCR clean-up |
| Format | Liquid |
| Starting Sample Material | DNA |
| Automated Available | Yes |
| Item Specifications Referenced | A63882 |
인용
Peffers, M. J., Liu, X., & Clegg, P. D. (2014년 3월 8일). 연골 노화의 전사체 프로파일링. Genomics Data, 2, 27-28. doi:10.1016/j.gdata.2014.03.001
Greenwald, W. W., Li, H., Benaglio, P., Jakubosky, D., Matsui, H., Schmitt, A., . . . Frazer, K. A. (2019년 3월 5일). 염색질 루프 접촉 성향의 미묘한 변화는 차등 유전자 조절 및 발현과 관련이 있습니다. Nature Communications, 10(1054), 1-17. doi:https://doi.org/10.1038/s41467-019-08940-5
라이브러리 준비 과정에서 바코드 PCR 반응을 클린업하는 데 사용
부인: 벡크만쿨터는 이 프로토콜과 관련하여 특정 목적이나 상업성에 대한 적합성에 대한 보증 또는 그 프로토콜이 다른 권리를 침해하지 않는다는 보증을 포함하되 이에 국한되지 않는 어떠한 종류의 보증도 제공하지 않습니다. 모든 보증은 명시적으로 부인됩니다. 이 방법의 사용은 벡크만쿨터와 무관하며 전적으로 귀하의 책임입니다. 질병 또는 기타 상태의 진단 용도로 의도되거나 검증되지 않았습니다. 이 프로토콜은 데모용이며 벡크만쿨터에 의해 검증되지 않았습니다.
중요 데이터를 분실하지 마십시오.
연구에 막대한 투자가 이루어졌을 때, AMPure XP는 정화 및 클린업 단계를 위한 유일한 대안입니다. 이 중요한 단계의 생산량 손실은 연구의 발견 손실과 직결됩니다.

다양한 NGS 작업은 단계별로 비용이 다양하게 요구됩니다. 이러한 작업 단계에는 추출, 라이브러리 구성, 라이브러리 강화, 클린업 및 시퀀싱 단계가 포함됩니다. 비용은 2017년 상용화된 키트 및 시약의 평균 정가를 기준으로 계산되었습니다. 공개된 양의 DNA에 대해 클린업 절차를 수행한 후 Picogreen 분석에 의한 총 DNA 수율을 판단하여 클린업 효율을 계산하였습니다. 이어서, AMPure XP 성능에 대한 수율 백분율을 사용하여 시중에 유통되는 다양한 라이브러리 구축 방법 및 정제 시약의 변화에 대한 효율의 영향을 계산하였습니다.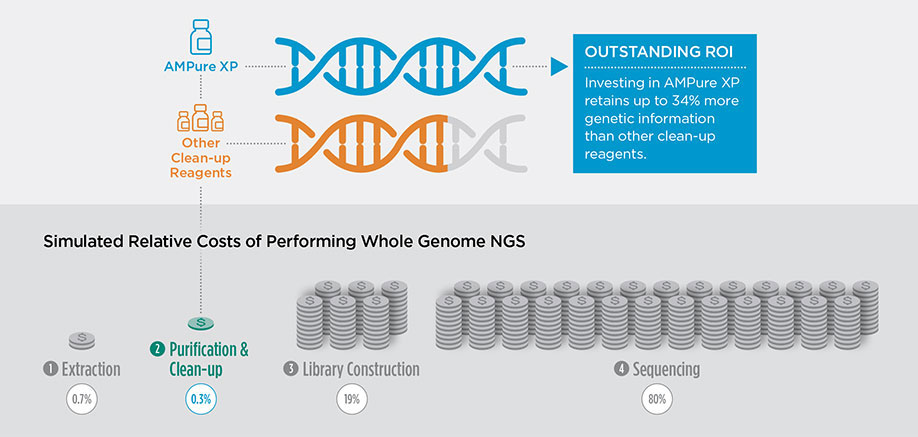 AMPure XP is the Gold Standard for Bead Based, Next-Generation Sequencing (or NGS) Cleanup
Over 200 library prep kits suggest using AMPure XP, including kits from trusted sequencing companies:
Illumina®
Nanopore
PacBio
Thermo Scientific
Over 15,000 publications used AMPure XP, referenced in articles in Science, Nature, and PNAS.
Nucleic acid purification and cleanup are mandatory for genomic applications, such as sequencing, qPCR/ddPCR/PCR, and microarrays. Maximizing recovery, consistency, and speed, AMPure XP meets the stringent needs of today's genomic applications and minimizes the risk of losing important genetic information.
High recovery of amplicons greater than 100bp
Efficient removal of unincorporated dNTPs, primers, primer dimers, salts and other contaminants
Predictable and consistent size selection
"Our findings suggest AMPure XP would be the best choice for analyses requiring very high analytical stringency." Mikheikin, A., Olsen, A., Picco, L. et al. High-speed atomic force microscopy revealing contamination in DNA purification systems. Anal. Chem. 88:5, 2527-2523 (2016) doi: 10.1021/acs.analchem.5b04023.1
1. Disclaimer: Beckman Coulter makes no warranties of any kind whatsoever express or implied, with respect to this protocol, including but not limited to warranties of fitness for a particular purpose or merchantability or that the protocol is non-infringing. All warranties are expressly disclaimed. Your use of the method is solely at your own risk, without recourse to Beckman Coulter. Not intended or validated for use in the diagnosis of disease or other conditions. This protocol is for demonstration only, and is not validated by Beckman Coulter.